Been there, done that: last year, I was desperately looking for a gaming backlog manager to help me keep my ever-growing collection of games under control.
I'm one of those gamers who keep hoarding titles at every Steam sale, in the hope that the wish-list will get thinner (spoiler: it doesn't), and shortly after the 500 mark, Steam collections were no longer appropriate to help me keep track of what needed playing.
Being a huge fan of apps such as Goodreads, TV Time and Letterboxd, I was looking for something similar: a piece of software that would enable me to select the games on my wishlist or in my possession, clock in a number of hours, maybe a quick rating, then move onto the next. I was probably as surprised as you are right now when I found out that there is no app out there that can do this exactly the way I want it to.
Gaming Backlog Manager Options
Sure, there are some great websites. WeThePlayers is a fantastic options for those who look to merge a gaming backlog manager with a community/social media/reviewing platform (I even ended up working with the team for a while!). But for those who are looking for something far simpler, a tool like WTP may be overkill.
I stumbled upon a number of apps, some of them better than others; you may know Grouvee and GG as some big fan favourites. But somehow, they all lacked the core features that I really needed for my own gaming backlog manager to really work for me:
Count all the games left to play, across different platforms.
Order the full list in order of priority (this was key).
Keep track of the completed games over time.
Add up an estimate of all the hours required to clear the full backlog.
Keep a record of the hours I actually spent playing a game, to compare against the estimate.
I even tried a clunky Google Sheet at one point. It served its purpose for a while – until I discovered Notion.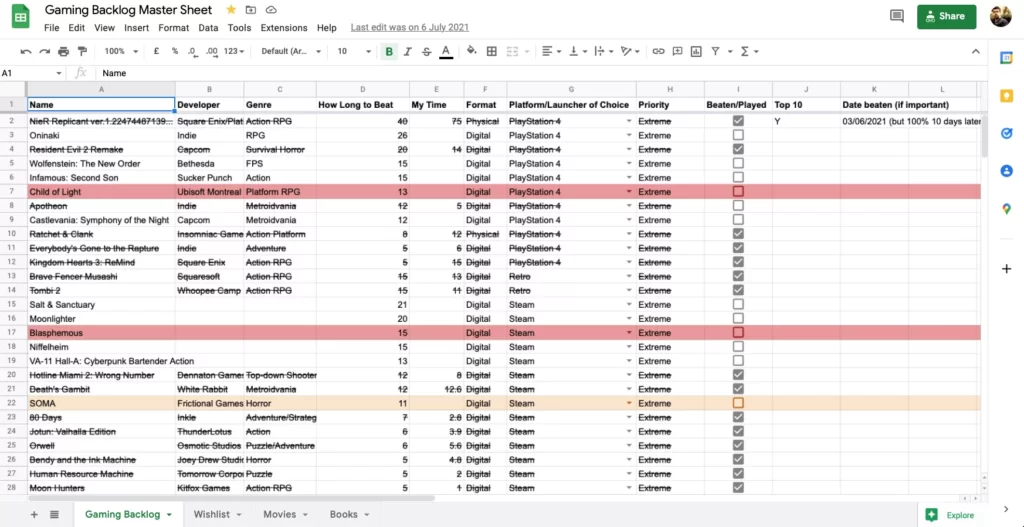 Understanding the power of Notion
If you squint hard enough, you'll notice that the last time I edited my Google Sheet was on 6th July 2021. That is pretty much around the exact same date I started using Notion for the first time. Fast-forward about a year, and I'm now officially Notion-certified, after having pretty much used this splendid app every single day for a full year.
As soon as I started using Notion and dove into its powerful databases, I instantly realised its incredible potential. Notion is akin to a DIY app for productivity; the flexibility and malleability of its databases is enough to prompt any productivity geek to give it a try.
Contrary to team-management apps such as Asana, Notion is entirely free for personal use, with the option to upgrade to paid plans should you ever wish to do so; and with the sheer volume of features available to free users, Notion truly has few equals in the productivity market – even against freemium tools such as Trello, which is still incredibly limited in the way you can manage your workflow without cashing in some money.
So after a quick-start course to help me manage the writing process for The Hounds of Salem, I was already so fascinated by its limitless possibilities that I had to try it out with my personal stuff as well.
Enter the Gaming Backlog Master Sheet – a name inherited from my original Google Sheet above, and one which I think will stick around forever by now.
How I tamed my gaming backlog using a simple Notion database
My personal gaming backlog manager on Notion is still much similar to the original Google Sheet – but augmented in a number of ways. Here's how it works:
Properties set up with different tags, such as Priority, Genre, Platform and more.
A Status property to keep track of my current progress within the game.
Number properties to track estimated gameplay time (manually pulled from HowLongToBeat) and actual gameplay time.
A field to input the Developer's name, because I'm a big game industry fan and I like to shout out to these teams on socials.
Some additional properties, such as an automated checkbox to help with filters, and a "Date Beaten" property.
Whenever I buy a new game, I head to the Gaming Backlog Master Sheet to manually input its details. It takes a bit of manual work to set it up, but once it's up and running, it will look something like this: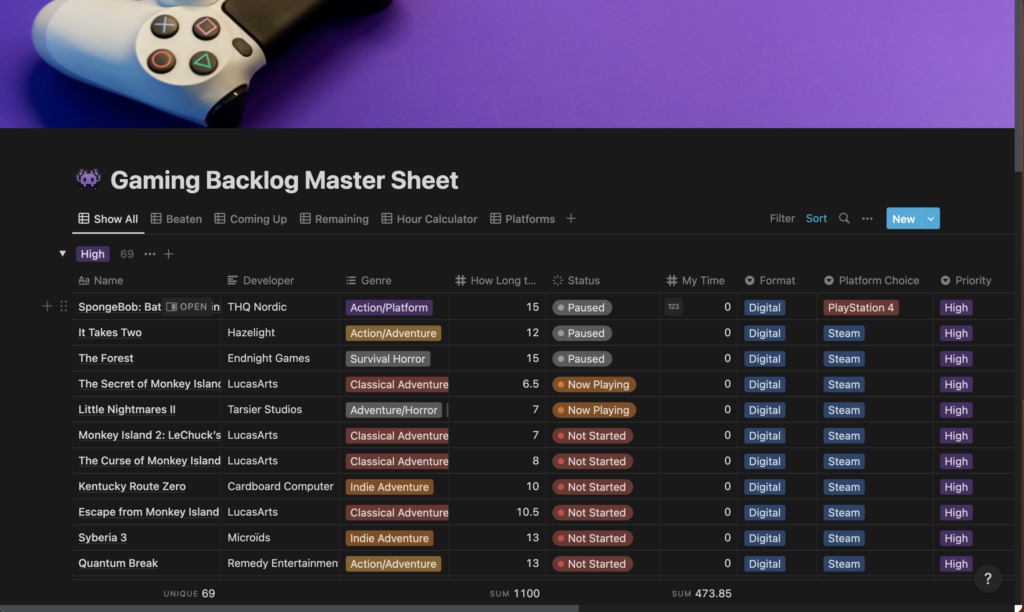 The database's properties are optimised so that they can work in tandem with Database Filters, Groups and Views. In the public template, there are database tabs to calculate remaining hours, check which games are left for you to play, and even which ones are going to take you the longest to complete.
Recently, a kind Reddit user flagged to me that he has created an integration to automatically sync your games with Notion with the Steam API. Once out of Beta, it could be a game-changer for anyone forced to manage a massive Steam library. I will update this article as soon as I'm able to test it properly.
Gaming Backlog Manager: Ready-to-use Notion Template
The Gaming Backlog Manager template is publicly available on my Notion base and fully ready to use. The only requirement is that you must have a personal (free) Notion account to start using it, but once that is set up, you can head over to the template's page and hit the button "Duplicate" to add it to your own Notion account.
Once your template is up and running, all you need to do is start filling in your games. It may take some time to complete the full database (depending on your library, it may take up to a full week-end) – but once it's set up, you only need to update it every now and then when you buy a new game. And because the template has a Platform property, you can add titles from any gaming console as well.
My gaming backlog manager is only one of the thousand ways in which Notion has improved my personal and professional life. I use it for anything, from managing my weekly projects at work to planning my travels and gathering research files for my WIP novel.
If you are in need of a tool to help you manage your productivity, I highly recommend giving Notion a try.
Already into Notion daily? Drop a comment below and let me know one unique way in which you're using Notion for your personal or professional life! I'm always curious to learn from other Notion users!